Rainwater Tanks
Our range is the evolution of water tanks design based on our knowledge of the Australian market. This 'Australian know how' has lead to a revolution in watertanks design that has been recognised and manufactured.
Most importantly, we have created a range of water tanks, rain water tanks and molasses tanks that are easy to order, install and maintain solutions to meet our water conservation and collection needs. Browse the range of plastic water tanks, rainwater and molasses tanks.
See the Camel Tanks Colour Guide.
Why Choose a Camel Tank?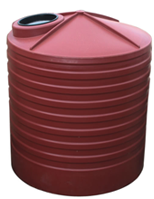 Strong Points
The unequal roof design of a Camel Tank does not or ever require a centre
pole. The roof design of a Camel Tank is the future of the poly tank industry.
The Kiss-off Ribs that radiate into the centre of the tank are the back
bone of the tanks' strength as is the roof on your house.
Aesthetics
A Camel Tanks is at the forefront of the Rain Water Tank industry in finish
and design. The joins are virtually invisible and there no weld marks on the
mould. The Parting Line matches perfectly so there no ugly steps in your
Camel Tank.
Tips for Choosing a Good Tank
Make sure the tank you are buying meets AS/NZS 4766:2006 for design & AS/NZS 4020:2005 for type of polymer. Check that it has No square corners on its roof or wall ribs as these will be thin and can split. Avoid overflow in the sidewall as this reduce the capacity of your tank and tank sizes are calculated to the top your wall. Choose a tank with a Guarantee not a prorata Warranty. This is a trap where you can get up to 25 Year Warranties and you can end up paying up to 90% of the current Recommended Retail Price. Ask the tank manufacturer how many claims they have had on the model you're looking at, if any.
Our friendly staff look forward to assisting you. Call 1800 422 635 or enquire online now!